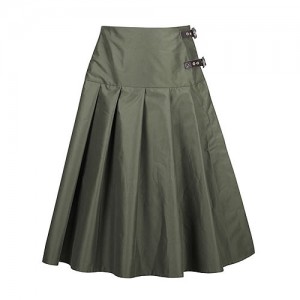 Rain Skirt – Gale
The Rain Skirt is designed with ladies in mind and can be worn over jeans, trousers, breeches, or another skirt and as it is carried in its small zip up carrybag, put on when rain occurs. Its length allows rain to fall over one's rubber boots and so eliminates the need for waterproof overtrousers.
The waist is adjustable thanks to incorporated elastic and two leather buckles.
Our "Storm jacket" and "Twister hood" complement the skirt and make for a perfect rain proof combination.
Every item of clothing is contained its own waterproof zip up carrybag with an outline of the item on the outside.
Colour: Forest green
Available sizes: S – XXL
Click here for size chart
Only logged in customers who have purchased this product may leave a review.