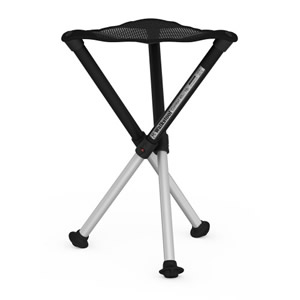 Walkstool
This is the only stool in the World with telescopic legs. Being made of aluminium it is very light, but immensely strong. There are six different models of stool. Comfort model with seat heights of 45cm/18", 55cm/22", 65cm/26",  75cm/30" and Basic model with seat heights of 50cm/24", 60cm/24".
Comfort models have a seat made of black mesh material, telescopic legs and big rubber feet and come with a light bag for carriage and storage. Basic models have a black seat, plastic feet, fixed legs and no bag for carriage.
Which height that suits you depends on how high or how low you wish to sit and how tall you are . Whichever model you choose the light weight of the stool means you can take it anywhere you think you may need to sit for a rest .
Demonstration Video
Only logged in customers who have purchased this product may leave a review.